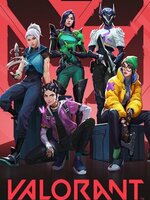 Cherche des gens pour jouer chills régulièrement ! ^^
Event Valorant on PC
Saturday 12/31 at 23:33 PM
Approximative duration : More than 6 hours !
If you have any questions, you can post a comment or contact the organisatoir.

By community:
Stats
Member's honnor
Games








The Elder Scrolls Online (PC)
0 member


Organisator
Honors received
No account provided, that's not friendly...
Stats
No one has discovered this site because of Moony_Art :(
Titles
Away for more than a week, what a coward!